What is a Clute Cooker?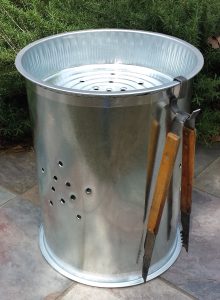 The Clute Cooker is a cook table for Dutch oven cooking that improves air flow under a camp Dutch oven. It has holes in the table and in the cylinder that allow the heat to draw air through the coals. The cylinder can be inverted for cooking on a solid surface without the holes.  It makes a good grill if you put a grate on it; any 18-inch diameter cooking grate will do. The Weber 7440 Charcoal Cooking Grate works well.
Portability, simplicity, and versatility are key attributes of the Clute Cooker. Disassembled, the pans stack and the cylinder rolls up. You can stack several pans and roll up several cylinders so that you can pack two or more Clute Cookers in about the same small space as one. And being lightweight, they are easy to carry and set up. Set-up is simple; just hook the cylinder clasps together and insert a pan in each end. And it is versatile in that you can use either end as a cook surface. The pan with holes in it is used for cooking with high heat. You cook on that end if you are searing, frying, or boiling water. Flip it over and cook on the pan without holes for baking.  This short video illustrates the portability, simplicity, and versatility of the Clute Cooker.
I made my first Clute Cooker in 2014. Since then I have improved on the cooker and on how I make it. I make a few each year as a hobby, but the demand for the Cooker has exceeded my manufacturing capacity. So, I decided I would show folks how to make it. If you make one, I'd appreciate a photo and permission to post it on this site. Please contact me and let me know that you have a photo of your cooker that I can post.
If you would rather purchase one of my Clute Cookers than make it yourself, please contact me. I can't promise that I'll have one for sale, but I keep a list of folks who want to purchase one and will do my best to make one for you.
How to Make a Clute Cooker
I put together a step-by-step set of instructions showing how to make the Clute Cooker. The instructions include a list of tools needed and the list and recommended source of materials. I also made several videos showing how I make the cooker.
It is gratifying to me that folks appreciate the portability, simplicity, and versatility of the Clute Cooker. As mentioned earlier, I would like to include a picture on this website of any Clute Cookers you make. If you make other types of camp Dutch oven cook tables or accessories and would like to showcase them here, send me photos along with the information you wish to share and I'll consider adding them to the photo gallery.  Please contact me and mention that you have photos and information that you would like to showcase here.
Good Luck, God Bless, and Happy Camp Dutch Oven Cooking.